The rhinestones arrived! So pretty. Sooooo pretty. The settings look like real jewel settings as the claws are actually claw like, and the underside is hollow.
I'm hoping I can have some left over to do a similar thing to the Epilogue Elsa gown that I did for the Ice gown. Kind of a Maria Bjornsen thing, which worked so well with Phantom. So Instead of a single layer of trim, you stack them and then put jewels on top. It's perfect for Phantom as that's pretty much what you did at the time- it really was a very upholstered style in the later 1870s and 1880s. Oh and that was a complaint at the time. Ditto the difficulty of copying designs because so much was drapery on the stand. I want to find that quote again.
Meanwhile have a photo of The Bernhardt in this style. Bold brocade, solid satin swag, layers of what looks like chemical lace, bare arms, a tall pleated collar, and flowers. And she still stands out as herself.
Because this is exquisitely shaped to her, and as an actress she both conveyed and was full of confidence.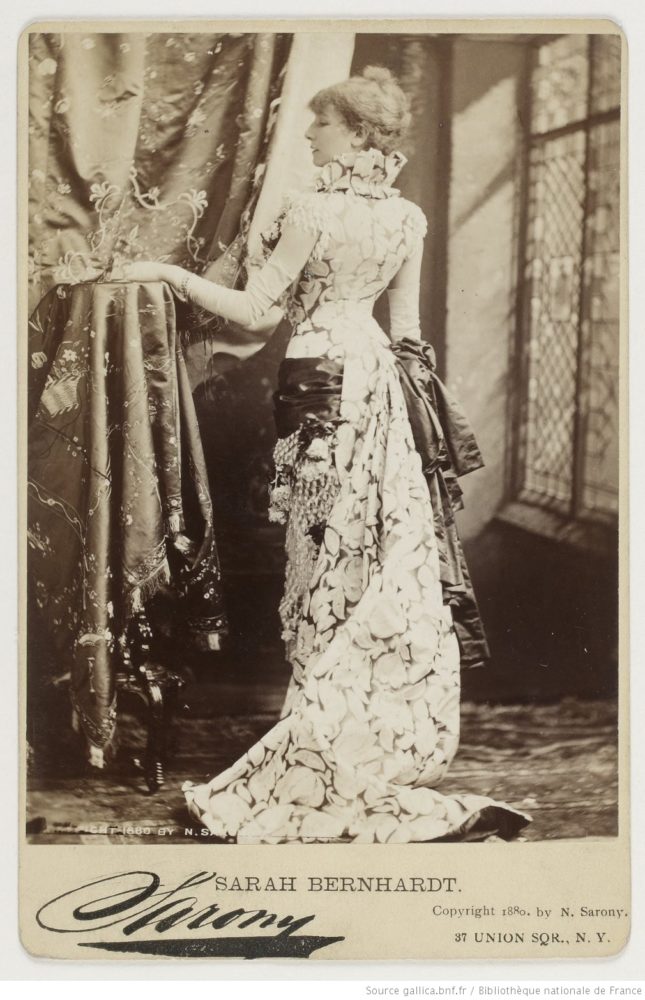 For Elsa it means I layer different fabrics to create depth and then put chunky rhinestones on top.
For the epilogue gown I have the same sequins and bridal tulle layers, and some different kinds of AB materials including a number of rhinestones to stack on top.
The claw set rhinestones for Pink Diamonds are of a shape that will work in with what I have so far.