BOOM! THAT'S CURVY!
by admin, December 21, 2014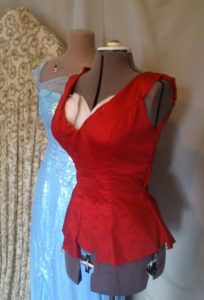 Even more so than Elsa- same pattern but I'm avoiding the desire to tone it back. And behind them both is the basis of a rather shapeless elf dress.
Mina is two layers of sateen so far and still pinned at key points. I'll try and pinch a little more under the bust though it does work better on me (plus padding).
Slightly general untagged post as I am fighting what I know as physical signs of depression. Right now I'm having some relief from the therapy but have no appetite and just want to sleep. Two issues related to the therapy but I also found myself starting to delete myself from online again and that is not part of the sick reaction.
This tends to be a time of year when all sorts of stresses fall, and this year has just been a doozy.