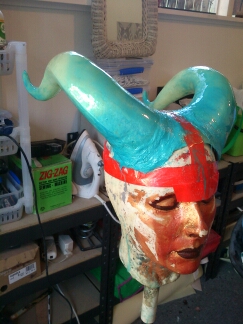 With a day of semi teaching the horns got prepped and painted. I think duo blue-green pearlex is my all time favourite pigment ever.
Pink-gold is my favourite on my skin so i'd like to get some as a paint some time too.
There will need to be a little patching with a thin gloss but that will likely be FIMO varnish as a very small filler type.
I still want to wear these under the wig, but I may wind up gluing wefts over it so I can take them off during the actual show. Might be the best option. I do hav super strong magnets too.