The cape

Which has been a nightmare but I have just about cut out the very last of the flurry. It is all ready to be ironed and the flurry and snowflakes appliqued. *freak* so fragile!!!!!
Firstly heatnbond to the back of the snow tulle, I have been trying to find easy search terms online but it is actually called snow tulle sometimes! It's a non regular super clear monofilament with a crazy woven pattern of floss. And glitter.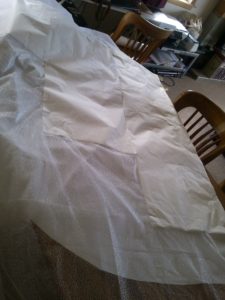 Then the full size print out of the flurry shape pinned in place.
These are Elsa only scissors. Literally just for cutting snowflakes.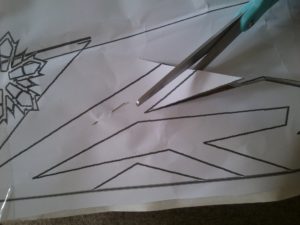 I cut the main outlines then the interior. It might have been more sensible to go the other way. I remember learning that bone needles were often made hole first then shaped around. it really is more sensible!
However due to the size and difficulty I really wanted to at least have the main flurry shape even if I was unable to cut the tiny snowflakes out of it.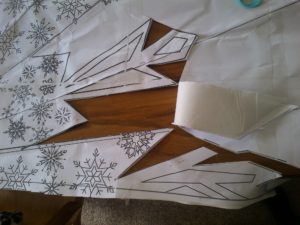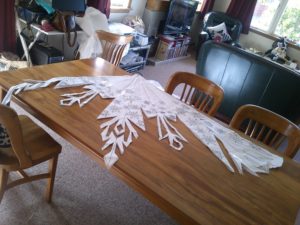 The larger snowflakes were also all printed out and then contact sprayed to the back of heatnbond that had been applied to more snow tulle.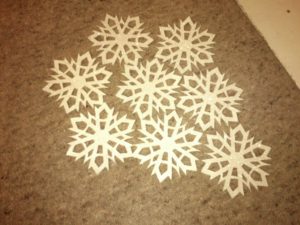 There was one small issue…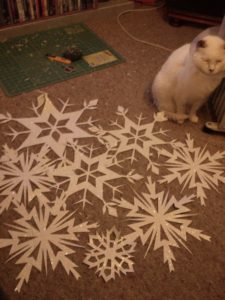 That is Mr Boo, Baby Bunny Boy with a cone and much of his ears removed. Still sitting on things he should not, but allowed to because well…. Yes, he has a fairly invasive cancer in his ears and on his nose. His nose is of most concern in case it travels in to skeletal tissue. But this should give us a few more years of his antics.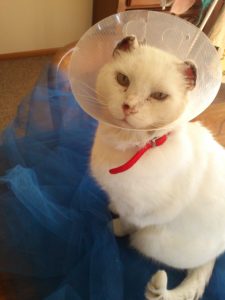 Look at that smug little face. I am not sleep deprived or anything…. He is not a happy indoor cat.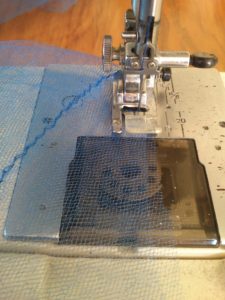 And finally this is how I joined my tulle base. This diamond tulle is so fine that I had to use a fairly wide zig zag (about 4 wide and 4 long on a Janome) to help gather the raw edges and to also have a little stretch to move with the tulle.