Maleficent progress 🙂
Firstly going back to the preshow last minute stuff!
Horns: cut to shape then glued in place. You can see the dip on the horn on the right hand side. I do still like this effect but having seen the movie now I don't need to go mad trying to do this again! they are much more opaque and with a less defined series of growth rings, so yay 🙂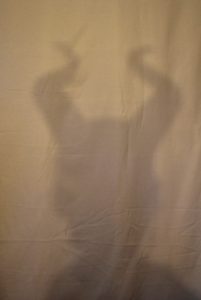 Yes, I like my shadow in these things!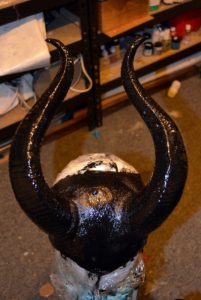 With the layer of black resin straight over! Also more fibreglass on the crown. This made it more rigid and actually in hind sight it wasn't needed.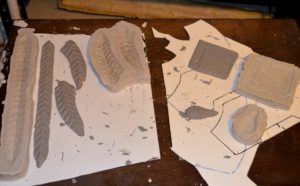 Sculptures and casts for the soft parts on the costume. I can't believe I did that all in one evening!
And the staff. This may be why my ring finger was so bad…. that's hand modeled epoxy 🙂 With microballons it's a beautiful putty but epoxy is not my friend!
oh hey and that paint was just acrylic ink and paint mixed with IA and brushed on with a chipping brush. It was not fully cured. But handy hint: ochre and yellow ink, with a smidge of black paint and then a small dab of gold paint mixed with IA makes for a slightly curdled paint mix that creates a great wood grain effect.
And now… my head cast: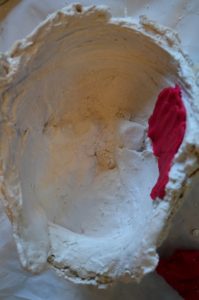 Plaster mother with some of my home made playdough smooshed in. I pressed a thin layer then pressed my face in then added more on my face then pressed in. It's not perfect but it has my proportions and may be a bit more true than my previous cast.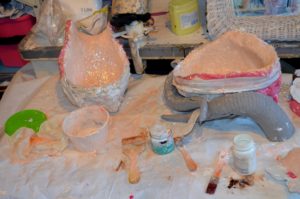 Resined! OMG!!! Chopped strand filler is a game changer! I mix a slurry of resin with pigments and a little cabosil, then while it is starting to slump use glass tissue to hold it up. Paint a more liquid slurry on the back then throw (literally, like dusting a bread board) the chopped strand in side and press and move any excess further up. Then paint another layer and do the same. There is a lot of excess strand in the mold that can be brushed out when cured.
Also I found my pink suede boots and realised the heel is a bit chunky but super sturdy so will be a good base for the boots at the end of the film 🙂
So yes, tabbard to action suit to winged form is happening. Funnily enough it may take up less room than the current gown…
June 26, 2014   michaela de bruce