CHANGED MY MIND ABOUT THE TULLE!
by admin, December 14, 2014
I have been very remiss and forgot about my earliest introductions to costume history and remembered there is indeed a fashion plate I have wanted to recrete for years but never really settled on a fabric nor trim. So.
Urk, blurry phone pic is blurry. That looks like the lens has been steamed… And that is why it is only a thumbnail
Anyway. It's inspired more than me. It was the image that Eiko used to inspire the Mina gown. At one stage I was going to use my Mina silk to make the plate as it was but with the dark blue rayon lace braid dyed black:
But I decided it really wasn't working. However when I removed the dye from the lace suddenly I was thinking of sheer vertical gowns andwas basing all my ideas on the amount of sheer voile I had. But oh hoho! I now have an obscene amount of cotton net to make the floofiest fluffy sheer version of this gown possible!
And to support it I'll finally make that white princess dress I have been meaning to make for a very very very long time!
And this super sleek style might have been very theatrical, this style can be used as a straight up dress.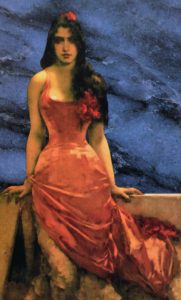 Circe.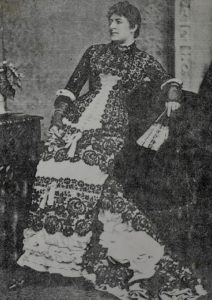 I was going to try and do this when the trim was still dark but I an really tempted to used some pale pink all over daisy patterned cotton lace to do something with my voile. It will wind up looking a bit like Whistler's Symphony in pink and white: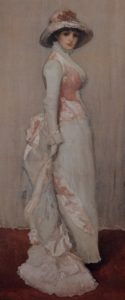 And I'm okay with that 🙂
Except I really also have loved Toulmouche's work for so long…
Rose Caron on the left, A Girl and Roses on the right.
Okay so this tuned in to a quirasses and princess dress love fest….
Anyway, so these are most of my all time favourite images from this period.