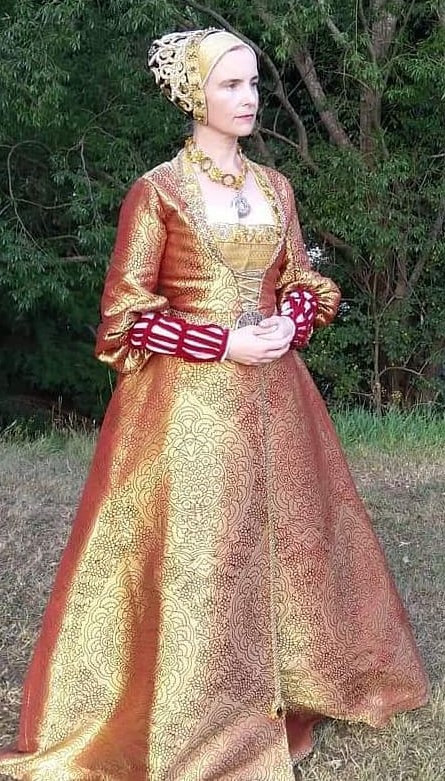 Status: wearable
Year finished: 2019
To Do: add hem facing
Updates since last photo: n/a
Inspiration: a stained glass window of Maria of Cleves (mother to Anne of Cleves)
I have wanted to make a cloth of gold gown for a long time. Many years ago I started to question everything we have been told of about Anne of Cleves as some of it just didn't really match up to what I was learning about clothing of the North Rhine.
The descriptions of her clothing by the English chronicler Hall in particular belied the idea of being impoverished. She wore at least three gowns woven with precious metals.
When Sartor offered a pre-order for their Margaret cloth of gold I knew I had to use it. I made a 1/10 scale pattern trying to find a way to get the full wide sleeves described but the scale of the pattern (36cm more than 14″ tall!) meant I could not use my previous patterns for my wool and linen gowns.
But I had already made two gowns with short sleeves from the region and remembered Maria of Cleves was depicted with very nifty short sleeves.
My skirt pattern was based on my previous skirts, starting with a half circle skirt cut into 4 gores. I was able to add extra fullness by extending those gores radially.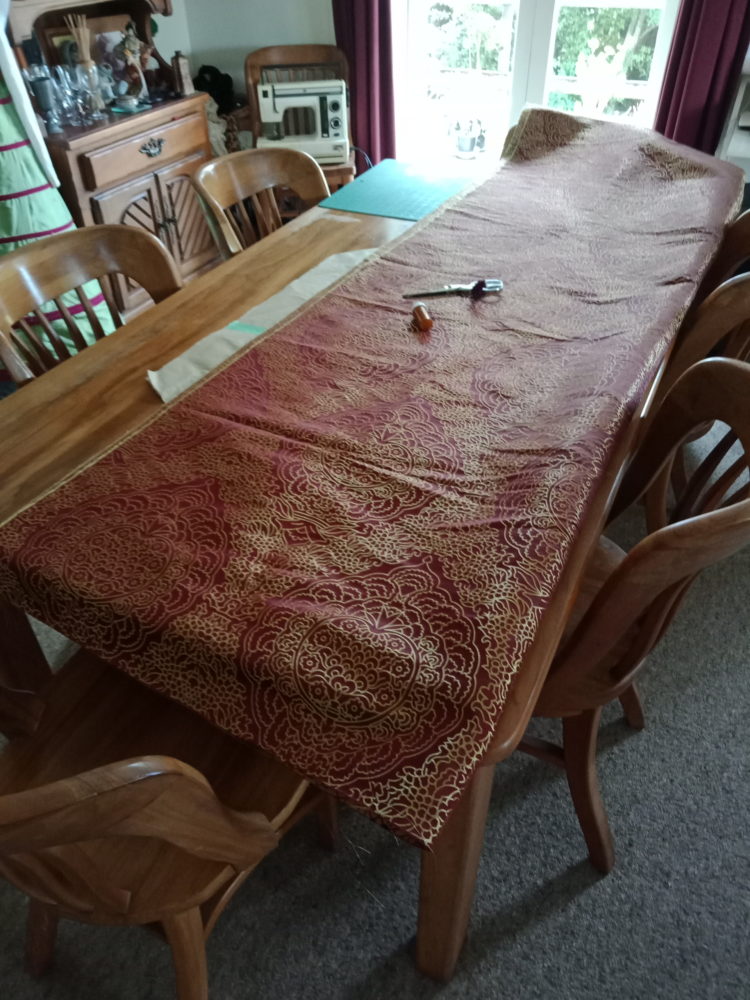 In order to match the pattern in the major joins I had to get very secure with a lot of piecing. A lot. Including little notches at the hem. I also wanted to make sure the bodice matched and the sleeves.
I started by hand sewing the pieces so that I could machine sew over and press with an iron. The effort was worth it as the skirt is so very full and the joins are mostly visible when flash is used, the fabric has a shot effect.
The lining is a linen fabric that was startling orange. I bleached it and laid out the fabric on the grass to increase the bleaching rate.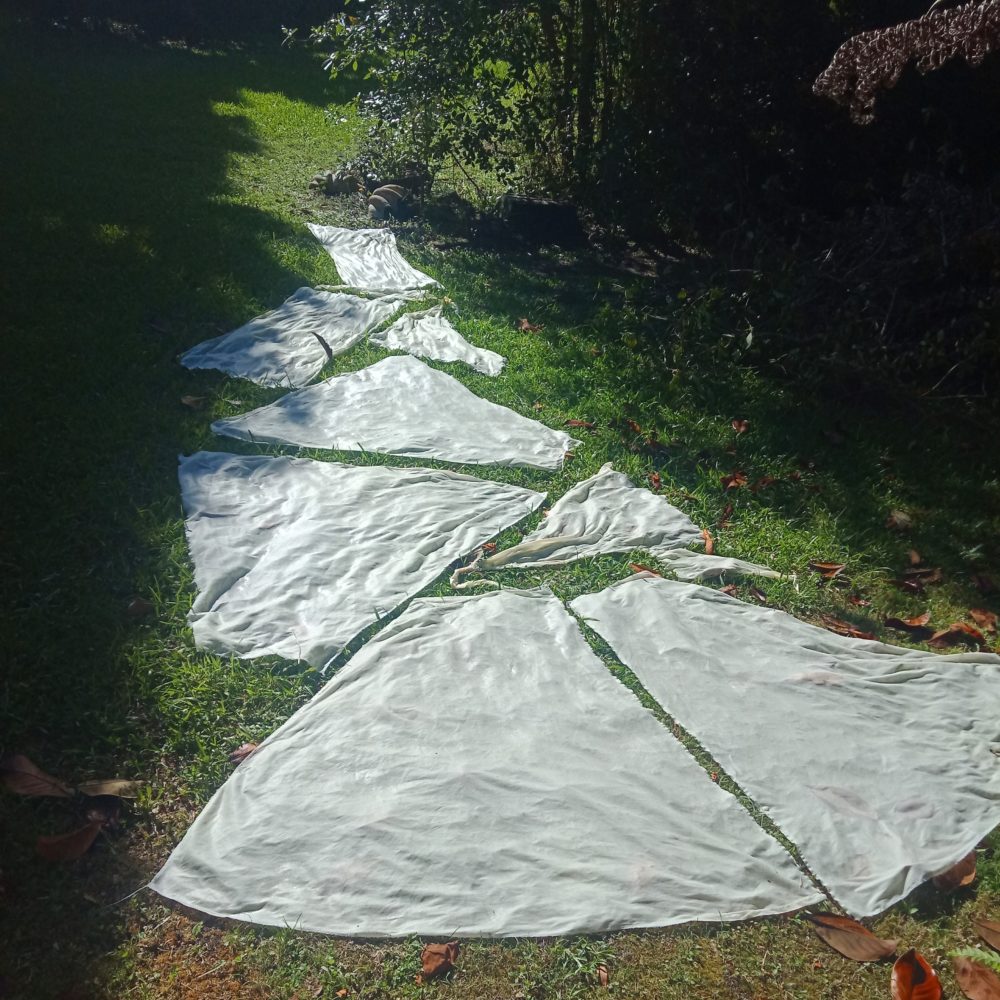 As the linen had a very different drape to the cloth of gold I pinned it right sides out and the lining seams outside. I continued to pin and smooth until the linen was straight then clipped the seam allowances, then turned and whipped them by hand.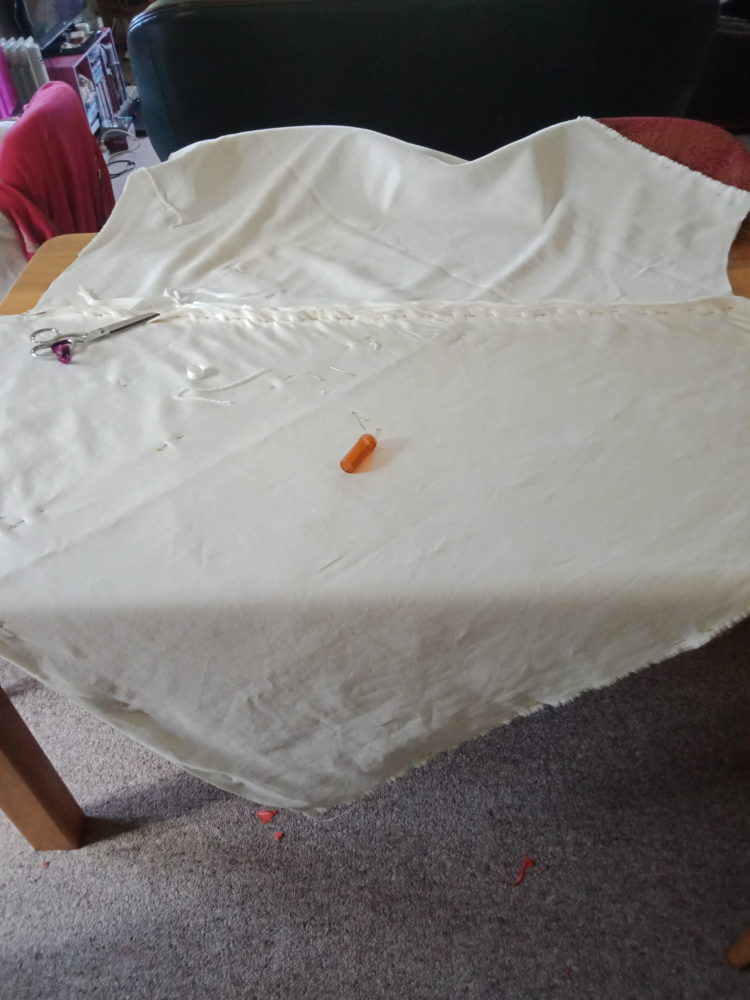 The sleeves are elbow length bishop sleeves that are eased into the armscye and gathered at the elbow.
I had tested my pattern but was nervous about the lack of stretch across the fabric so cut my fabric with quite a bit of extra seam allowance. I didn't wind up affecting the extra piecing in the skirt because of this, but I do think I might have been able to piece my bodice a bit more if I was willing to have joins where people are not used to them.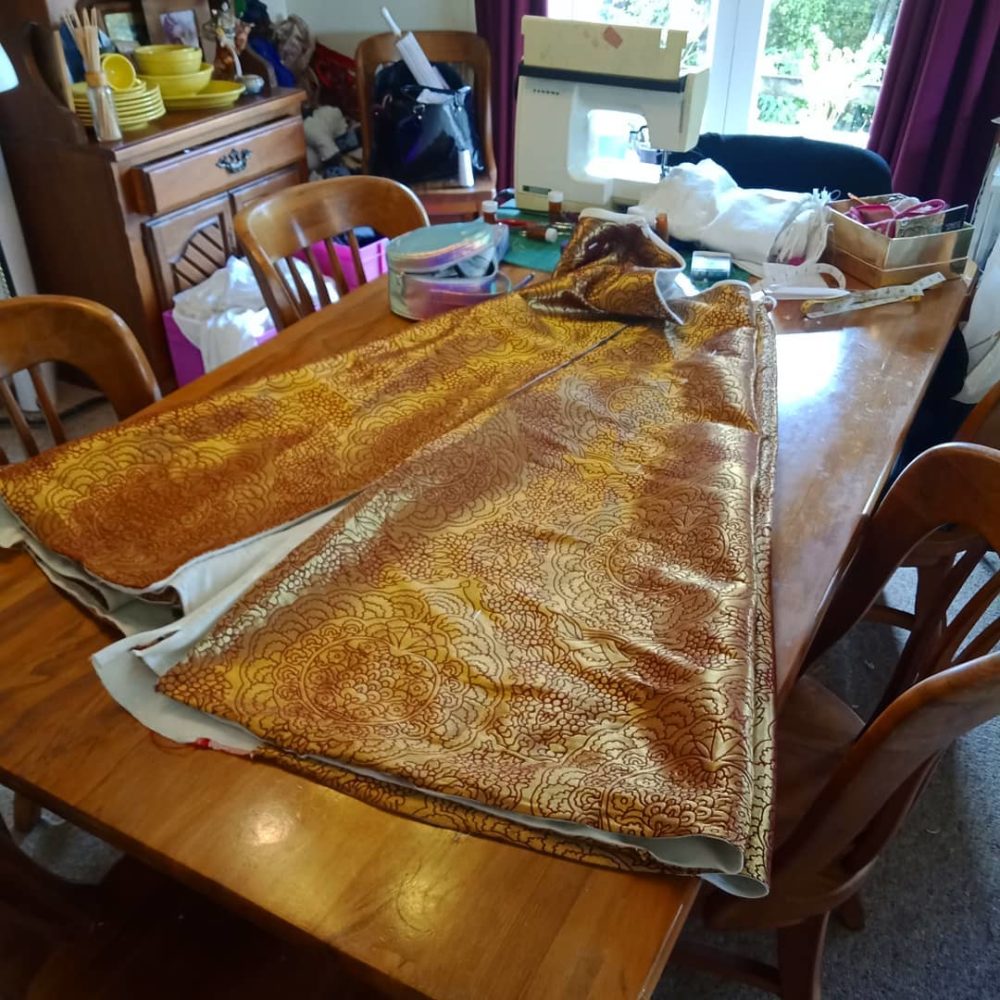 The gown is very lightweight and if I fold it carefully can be packed and traveled with very easily.
I usually am a stickler for SCA sumptuary rules but let my friends persuade me to wear this tiara for a few seconds and get a photo.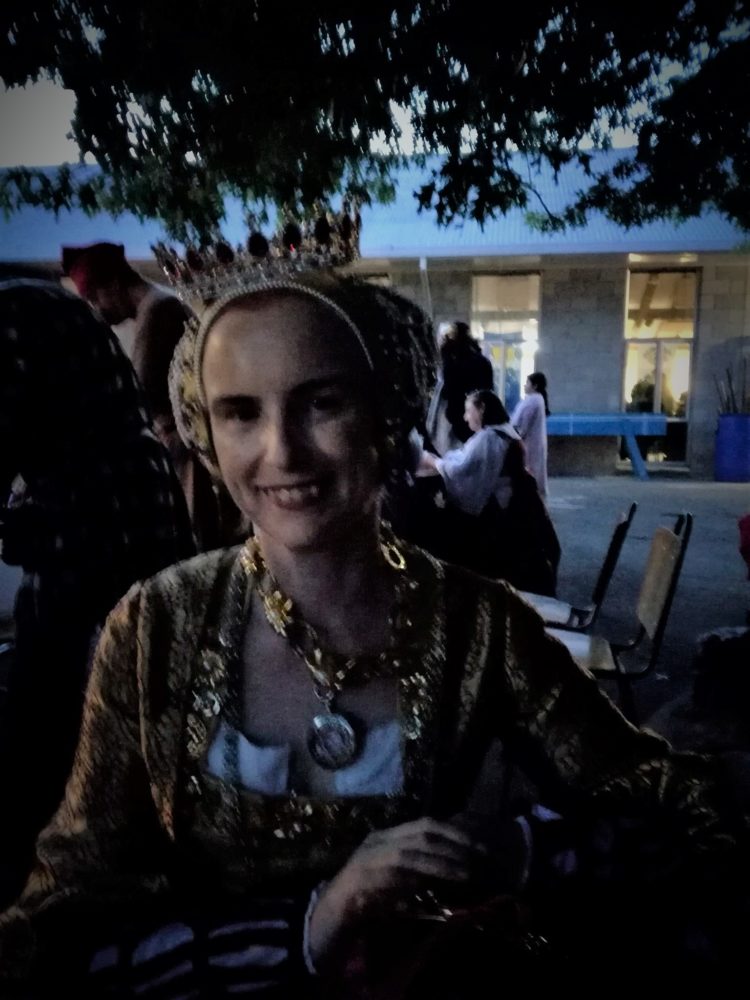 There are few times I wish I was a pointy hat, getting to stack hats on hats on hats is very much one of those times!
I'm 'just" a laurel, so I get to wear matching jewelry around my neck and with this region on my head and decorative neckline.